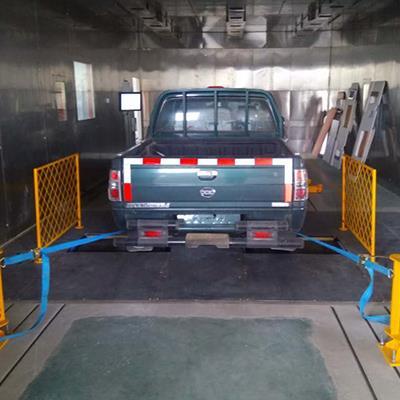 48" two-drive AC power chassis dynamometer
Product Details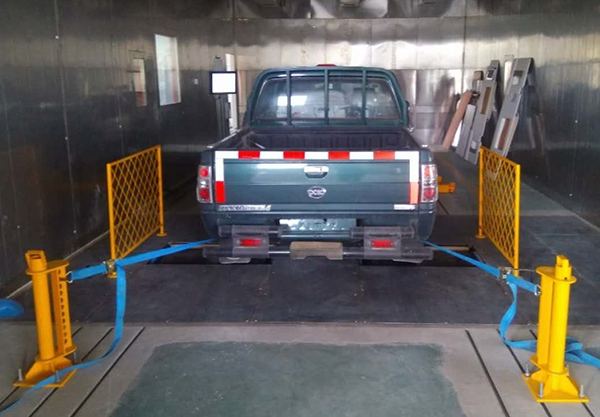 This power chassis dynamometer is suitable for front, rear and four-wheel drive vehicles. Temperature range -20 ° C - +60 ° C. The two-wheel drive drum system is used to test vehicles in various drive modes. It can be operated in the following ways: road simulation, fixed speed control, fixed torque control, fixed acceleration control, etc. Road resistance and inertia endurance tests for endurance testing and R&D testing.
Also equipped with fuel economy test equipment to test fuel consumption
Equipped with emission test equipment can also be used for vehicle emission test
A power analyzer can be used to test different electrical parameters of a hybrid or electric motor of a new energy vehicle.
The vehicle under test is fixed on the upper drum surface of the drum by a suitable fixing device. The power chassis dynamometer system consists of two drums, and the two drums are connected by a motor to form a shaft. Measuring, processing and recording traction and speed values. Based on these actual measurements, the power conditioning cabinet applies precise load resistance to the vehicle, allowing the system to provide the required road load by means of high-precision electric inertia simulation techniques. Need, the vehicle can work under steady state or dynamic conditions.
The electric chassis dynamometer accurately simulates the various types of resistance loads that the test vehicle performs on the road. The dynamometer is installed underground, the vehicle is driven on the drum, and after the centering is fixed, the dynamometer simulates actual road conditions such as speed, torque or road load, and the vehicle can be tested under the simulated actual road environment. Road load simulation is achieved by a dynamometer drive.
The dynamometer computer control system is used to accurately simulate road loads. The road load is mainly input to the road load coefficient of various vehicles by operating the computer, and is determined and modified by calculation. At the same time, the system also has a self-calibration function to verify the test status of the dynamometer.
Type

Parameter

Parameter and precision of chassis dynamometer

Drum diameter(mm)

1219.2(48")

Drum outside distance

2700mm

Drum inside distance

900mm

Max axle load

5T

Max speed

180km/h

Basic inertia

1200kg

Inertia simulation range

400kg-3500kg

Inertia simulation precision

±0.1%F.S

Traction measurement accuracy

±0.1%

Traction measurement repeatability

±0.2%

Traction control precision

±0.06%

Acceleration measurement accuracy

0.005m/s²

.005

Encoder resolution

10000

Speed measurement accuracy

±0.02km/h

Speed control precision

±0.01%

Distance measurement precision

±0.05%

Distance measurement resolution

±0.001m

Time measurement accuracy

±2ms

Time measurement resolution

±0.001s

Road load simulation accuracy.

±1%F.S

Road load simulation repeatability.

±1%

Balance level

2.5

Motor parameter and precision

160kw-10/±1%

Constant power in drive mode

156.8kw

Constant power in absorption mode

160kw

10S overload power in drive mode

235.2kw

10S overload power in absorption mode

240kw

Constant traction in drive mode

5559N

Constant traction in absorption mode

6679.8N

10S overload traction in drive mode

13897N

10S overload traction in absorption mode

16677N

Chassis dynamometer cooling method

Forced air cooling

Work temperature range

-15°----+60°

Temperature monitoring method

thermocouple

Chassis dynamometer protection level

IP54

Traction measurement method

Torque sensor

Noise one meter from the chassis dynamometer(DB)

≤60

Other test parameter and type

Signal response speed(ms)

≤100

Max load weight of pit cover(T)

40

Drum surface treatment

Surface knurling + hardening

Wheel clamp form

Manual mode

Max adjustment distance between clamp and drum(mm)

5000

Vehicle centering device

Manual mode

Measurable wheel tread range(mm)

1600~2200

Atmospheric humidity collection range and accuracy

0-100%RH,precision≤±3%

Atmospheric temperature acquisition range and accuracy

0~50℃,precision≤±0.5℃

Atmospheric pressure measurement accuracy

precision≤±0.5%

Voltage test range and accuracy

20-500V:precision 0.01V

Current test range and accuracy

0-300A:precision 0.02A

Pit moisture detection sensor

Precision :±2%
Inquiry