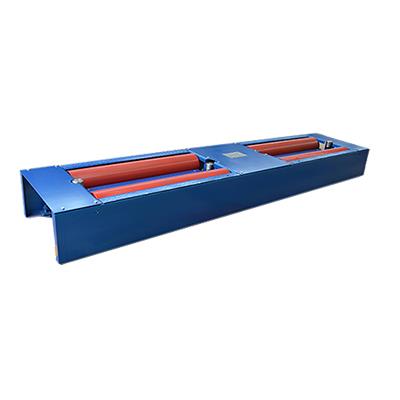 GYCS car speed test bench
Product Details
Main feature:
1. The bench is designed general frame welded type, high strength, firm and the contour elegant appearance.
2. The bench fitted velocity-measuring system is import-element( Japan OMROM),ensure the date precise and reliable.
3. The main roller surface all use rose work, attachment coefficient is good and environment protecting without pollution.
4. Lifting system used many sir sac single bridge whole direct lifting, capability is good and good synchronism.
5. Air cell, windpipe and solenoid gas circuit control system all use civil well-known brand name, high-reliability, longer life.
6. Install a wheel stop system, can effectively guard against front-wheel drive vehicle damage to the wheel when testing cause cross slip.
7. The bench surface used hyacinth bean-type tracery steel plate to wrapping, skid resistance and can show stereoscopic effect.
8. It does not have stone bolt, debugging and leveled is very easy.
Main technical parameter:
Item GYCS-3 GYCS-10 GYCS-13 GYCS-16
Rated max axle load mass 3000kg 10000kg 13000kg 16000kg
Roller diameter×Length ф190*900mm ф190*1100mm ф190*1100mm ф190*1200mm
Inner width×Outer width 700*2500mm 700*2900mm 700*2900mm 700*3100mm
Roller centre distance 430mm 430mm 430mm 430mm
Max test speed 120km/h 120km/h 120km/h 120km/h
Net weight 900kg 1200kg 1400kg 1700kg
Outside size of bench 2800*750*350mm 3400*750*350mm 3400*750*350mm 3600*750*350mm
Foundation size 2900*850*370mm 3500*850*370mm 3500*850*370mm 3700*850*370mm
Inquiry